Photo by: Noemi Segarra, during a week teaching residency with PISO and Noemi Segarra's University of Puerto Rico students in San Juan, 2017
Teaching
for complete Teaching Experience go HERE
Marion teaches
Contact Improvisation, Dance Science and Somatics, Contemporary Dance Technique, Dance Appreciation, Composition, Salsa, movement workshops 'Strengthening the Bond' for children and adults.
She has assisted / co-taught courses such as:
Foundations of Dance Pedagogy and Improvisation for site-specific locations
Encuentro Contact Cuba 2018
for details go
HERE
Espacios Magneticos
This series of workshops by Marion Ramirez will look at the "magnetic" connection between dance partners, before being in physical contact. We will look at ways of resonating with other's movement rhythm, improvisational patterns, shifts of weight, as well as playing with how to be in synch while indulging in opposition or riding a common wave. Coming in and out of contact, in and out of shared weight, these practices have the potential to inspire clarity of communication, generated in the elasticity of the space between the bodies.

Freiburg Contact Festival Germany 2018
for details go HERE

Inner - Outer Environment-
Principles of Contact Improvisation
In this classes co- taught by Marion ramirez and Jungwoong Kim we will focus on a site-specific approach, as a way to expand our connection with what is present in our inner and outer environment. We will focus on deepening our sensory awareness to prepare the body for responding to touch, sounds, found objects, dancers, and the particularities of each space. We will use contact improvisation principles such as ways of giving into or challenging gravity, resonating with the rhythms we perceive, playing with how to match or oppose the quality of movement while coming in and out of physical contact and dancer's shared weight. These practices will support ways to find the multiple layers of meaning, personal memory, questions and collective actions that emerge when we are fully present and in relationship with our environment.
Leaving a Trace
by: Marion Ramirez- Fall 2014 teacher for Corporeal Improvisation course at Temple's Dance Department

Dance movements so often escape the opportunity to leave visual evidence of their trajectory and intentions. On September 11th, 2014 students from the Corporeal Improvisation course at Temple University's Dance Department and students from the Creative Lab course at Moore College of Art and Design had the opportunity to collaborate and experience a workshop on the expression of flow in drawing and dancing. I had the pleasure to co- teach/facilitate this session with visual artist and muralist David Guinn (Moore's art faculty). As if color was pouring out of the skin, visual artists and dancers alike experimented with full body-movement improvisation and the idea of leaving a trace; firm marks, light marks, continuous and interrupted flow emerged as ways of spontaneously defining the expressive qualities of their imaginary painting.

At the end of the session we prepared the space for a group live painting in which all students inspired each other to make marks. At first the moving paint was lead by hands and brushes as extensions of the core of the body, eventually students used their whole body as the medium to create the painting and become the art itself. What was left was a visual and kinesthetic testimony of the character of their individual and collective movement impulses. It gave us all a rich experience and an entry point to continue our improvisational research and look forward to many interdisciplinary artistic opportunities.
Past Recent Teaching Schedule
July 2017-
Adentro-Afuera,
somatic explorations at and with PISO Proyecto and Noemi Segarra, San Juan, Puerto Rico
Espacios Magneticos
, with Danza Contacto Puerto Rico, San Juan, PR
February- April 2015- Impulsive Flow
at the Iron Factory, Fridays 9:30am-11am
March- June-
Monthly Contact Improvisation Jam,
co-facilitating Marion Ramirez and Jungwoong Kim, on the second saturday of the month
at Headlong Studios 1pm-4pm
March ---
Magnetic Spring---
Contact Improvisation weekly class,
taught by Marion Ramirez at Headlong Studios, Sundays 1pm-3pm to see other months rotating teachers and information on Contact events in Philadelphia go
HERE.
Impulsive Flow
a weekly contemporary dance class taught by
Marion Ramirez
on Fridays at The Iron Factory. The class will run from Friday, February 6th until Friday, April 24th.
when:
Fridays - 9:30 am-11 am
(February 6th to April 24th)
where:
The Iron Factory 118 Fountain Street
Philadelphia, PA 19122
Berks stop in the market-Frankfort line (blue line) Is a 8 min walk form the station.
cost:
$10 per single class or 4 class card for $36
Impulsive Flow
is a weekly release- based contemporary technique class that incorporates elements of Latin American dance (baile popular) in it's movement sensibility and musicality, like the use of syncopation and the circularity in the movements. In this class we will prepare the body for dancing through improvisational games and simple movement pathways that explore developmental movement patterns, facilitating a balanced muscle tone thru the body and efficient ways of moving. These principles will prepare the students tolearn more complex movement sequences and flow confidently in and out of the vertical line of balance, ride momentum, embrace disorientation and follow delicious sequential and simultaneous movements. Students will be encouraged to find their personal expression within the dances and explore a range of dynamics from fluid suspensions to percussive attacks.
In my classes, I incorporate principles of somatic practices including aspects of Body-Mind- Centering, Kinetic Awareness and Bartenieff Fundamentals/Laban Movement Analysis as well as material and research from my choreographic work and performance experience. I develop the class in response to the student's abilities and interest within the material presented. I look forward to sharing my dances and learning together with the students during this class series.
Powered by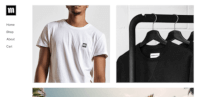 Create your own unique website with customizable templates.